I REALLLLLLLLY wanted a photo booth at our wedding no matter what venue we chose. But I'll be darned if renting one isn't ridiculously expensive!!! Holy crap. The cheapest one I found was around $500 for 3 hours but you still have to pay for the attendant to be there and for a certain amount of prints. $500-$1000+ was not in our budget AT ALL. So I decided to make our own.
I don't have a picture of the frame itself without the back drop on it.. but if I get bored enough to put it back together, I'll take one for you to see. :)
I DID however, take a really bad video with my cell phone to send to my mom and sister that I will share with you. Ignore my gross voice. I was getting over being sick so I sound froggy and high pitched at the same time. It's a glorious period when you're getting better. Puberty much?
We went to Lowes and cleaned our store out of the useful 3/4" PVC fittings (I spent a lot of time sitting on the disgusting floor searching through bins to find the right sized pieces we needed), and bought a couple pieces of 5 foot 3/4" PVC pipe. I think all together we probably bought about seven 5' pieces and had a little bit left over. For some reason, buying two 5' pieces was WAY cheaper than buying one 10' piece of PVC in the same size but if the 10' piece is cheaper for you then go for it!
We also bought a PVC pipe cutter which we subsequently broke 10 minutes into cutting the pipes to the right sizes. Whoops. Someone *aheeeeeem*Zac*aheeem* didn't read the directions on how to cut pipe with it. So that's $10 down the drain. It still does it's job, but there's a huge chunk taken out of the blade. Ha


 


  We bought probably 6 elbows at $0.30 a piece, 2 Tees at $0.36 each, and a butt load of couplers (maybe 6-10?) at $0.20 each. We had a rough idea of how we wanted to build the frame, but didn't know how it was going to work out so we bought what we thought we needed. Zac ended up having to go back for a couple more pieces when we realized it wasn't stable enough.
Our first attempt didn't seem sturdy
at all
. And the bar across the top wobbled. I was worried drunk people might knock it over and break something at the venue. Here is my little doodle so you can see what we had initially.
**Disclaimer: I am NOOOOOT an artist**
**It's OK to laugh!**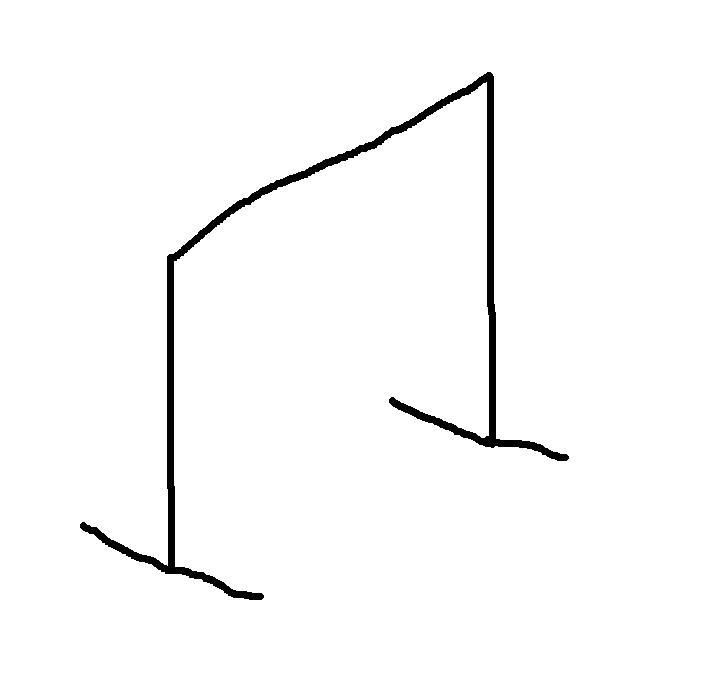 Our second attempt was much better and much sturdier. I
am
worried about people tripping over the pipes, but I think they will be ok. I'm still contemplating whether or not I should spray paint the PVC black or white to cover up all of the writing. I'm leaning more towards "I don't care" at the moment. The size of the booth ended up being about 7 feet tall, and 6ish feet long so we added a foot or two to each 5' piece on the frame to make the desired length. One 5' PVC pipe for each side x's 5 sides = 5 PVC pipes + 2- 5' PVC pipe for cutting in smaller pieces to make desired length. The legs are made of two pieces connected with a Tee and each piece is about a foot long.
If I did this again, I would probably plan it out a bit better. Reading all of this makes my head hurt... but when you look at it, you would never know that Zac was cussing up a storm while cutting the PVC, or that I was getting mad at him for getting mad at building the frame.. haha.
Here is our second and final frame:
We very well could have used more couplers than what I listed on the picture, but you get the idea!
So basically, attach pvc pipes together with couplers to reach desired length. When connecting pipes to make an angle, you need an elbow. When connecting the top to the bottom portion, you need a Tee. Simple.
For the backdrop, I bought a black Queen sized sheet at Wal Mart for about $11. I probably could have found something cheaper, but the dimensions were right, and it was easy and quick.
To attach the sheet and still be able to take it off, I pulled the sheet across the frame until we were holding it where we wanted it. I folded the top half down over the top bar and secured in a couple of spots with safety pins. On the sides, I folded the leftover material over towards the middle of the frame, basically making an upside down L with the top part of the fabric and secured with safety pins in a few spots.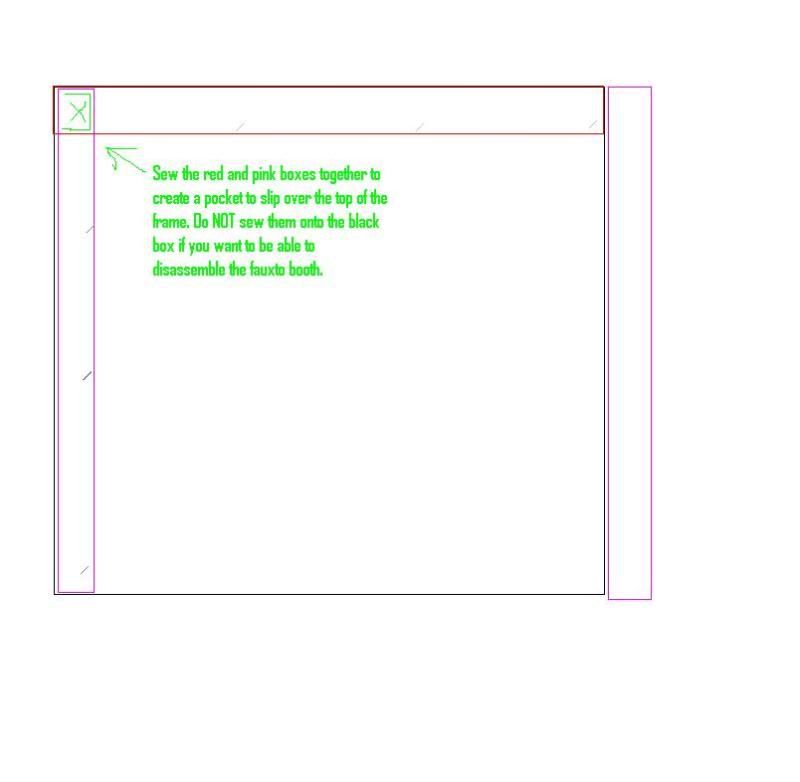 And that's about it! If this makes no sense to you.. it's ok. I'm a little scatterbrained! I also splattered red and white acrylic paint all over the sheet to give it some texture. I was worried people might blend in if they were wearing black, so I wanted there to be some distinction!
Here are some photos of the finished booth!
I probably should have ironed the sheet first... but I really just didn't care at the time!