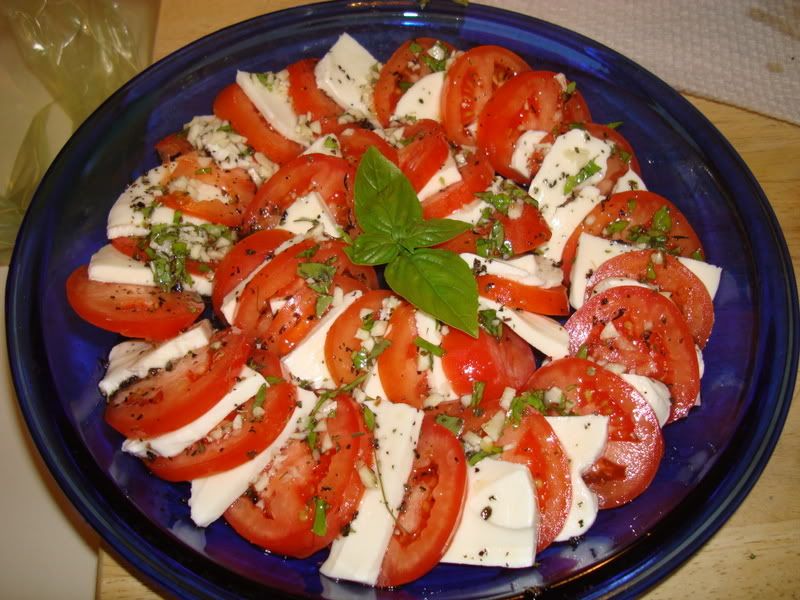 I
'd like to make a habit of posting some of my favorite recipes on here to share. I LOVE to cook so hopefully you enjoy these recipes as much as I do!!
Today I am sharing my
Caprese Salad
recipe. My dad was in the Army when we were growing up, and we had the pleasure of being stationed in Naples, Italy for 3 years. I
miss
going to a local café and ordering a -DELICIOUS- plate of buffalo mozzarella, ripe delicious tomoatoes and thinly sliced pancetta.
While I have not used pancetta here, you can easily find some in your grocery store deli counter or wherever specialty items are in the deli cases. This is
my
take on an Italian classic.
INGREDIENTS:
*3-4 Roma Tomatoes -or-2 vine-ripened tomatoes
*2-3 cloves of garlic (
adjust to taste)
*1/2- 1lb fresh Mozzarella or non-seasoned mozzarella in juices
*3 fresh Basil leaves (extra for garnish)
*1 tsp fresh oregano
*1/4 tsp fresh rosemary
*1/4 tsp fresh thyme
-OR-
(You can use Italian Seasoning if you don't have fresh herbs. I
highly
recommend at
least
using fresh basil)
*Extra virgin Olive Oil
PREPARATION:
Slice tomatoes as thinly or as thick as you would like. I prefer to cut them about 1/4 inch thick (depending on the tomato). Set tomatoes aside and cut Mozzarella into slices comparable to tomatoes. Alternate slices on a plate or serving platter as shown or however looks best to you! Gather fresh herbs, roll into a log, finely chop. Mince garlic. Combine herbs, garlic and about 1/2 cup EVOO in a small bowl and mix well. Pour olive oil mixture over tomatoes and mozzarella, garnish with fresh basil leaves… and allow to sit in fridge for at least 30 minutes to allow the flavor to develop.
Adjust herbs and garlic to your personal taste. My family loooves garlic, so I always add a little extra. :)
Enjoy Caprese Salad as is, or on top of a lightly toasted piece of Italian bread brushed with olive oil.